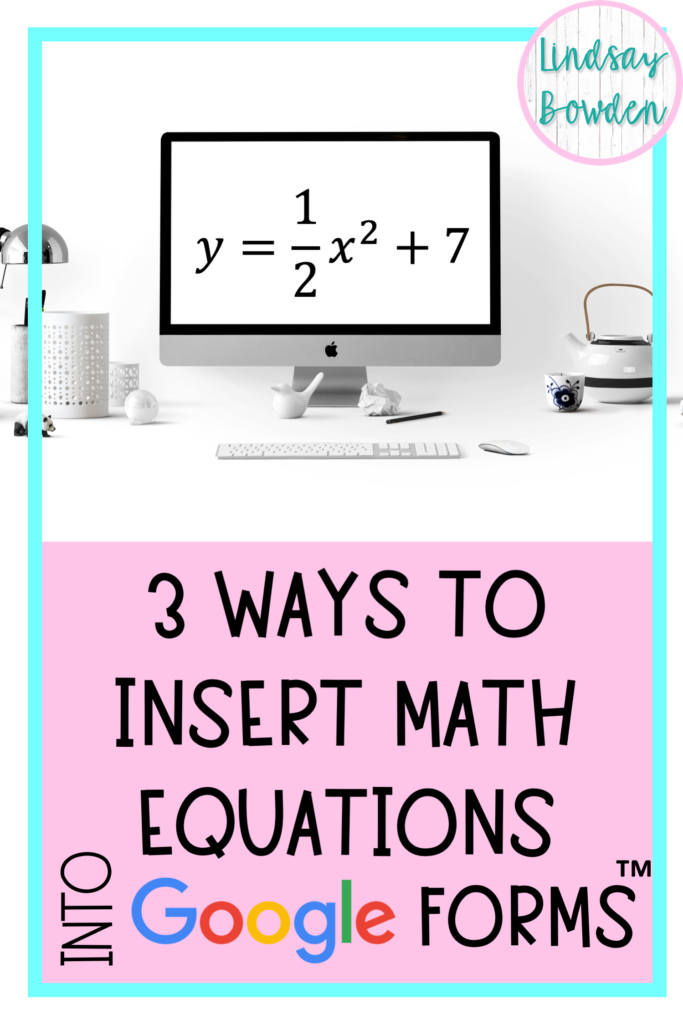 Google Forms™ is great for creating quick assessments for your students. However, it does not have an equation editor built in to the application. To insert math equations in Google Forms, you have to use another website or application.
I have listed three ways to insert math equations in Google Forms below.
1. Use CodeCogs (a free website)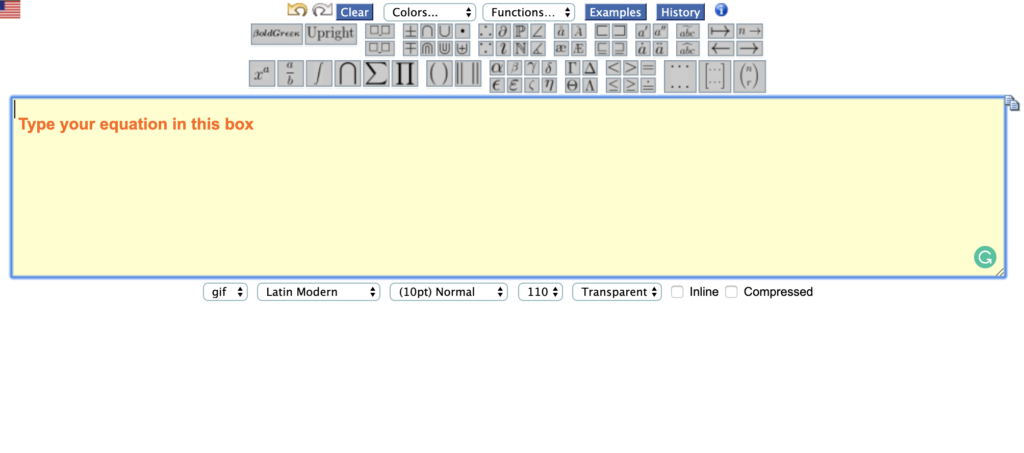 This first method is to use this website.  First, you type your equation into the yellow box. The equation will appear below the yellow box.

Next, scroll down to smaller yellow box and select "URL" from the drop-down menu. Copy the text in the box. (Control+C on a PC or Command+C on a Mac).

Go to your Google Form and click the image button beside the question or answer choice where you want to add the equation.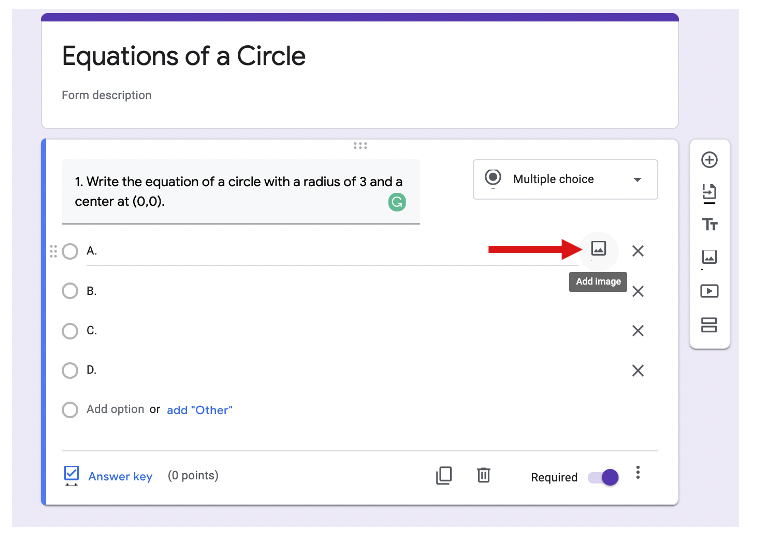 Click "BY URL" and paste the URL. You should see the equation below the pasted URL. Then, click "add image".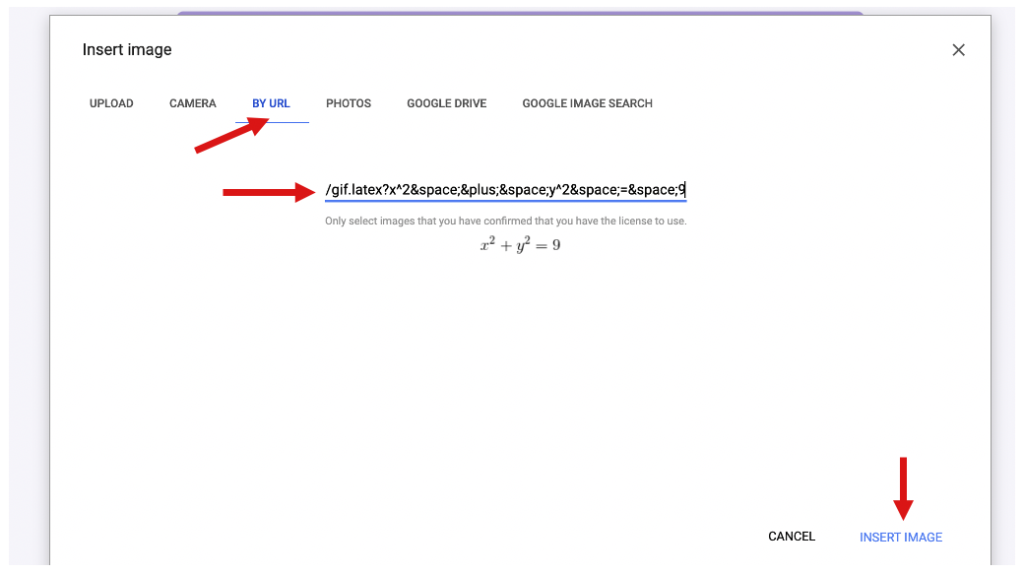 The equation should now be visible on your Google Form.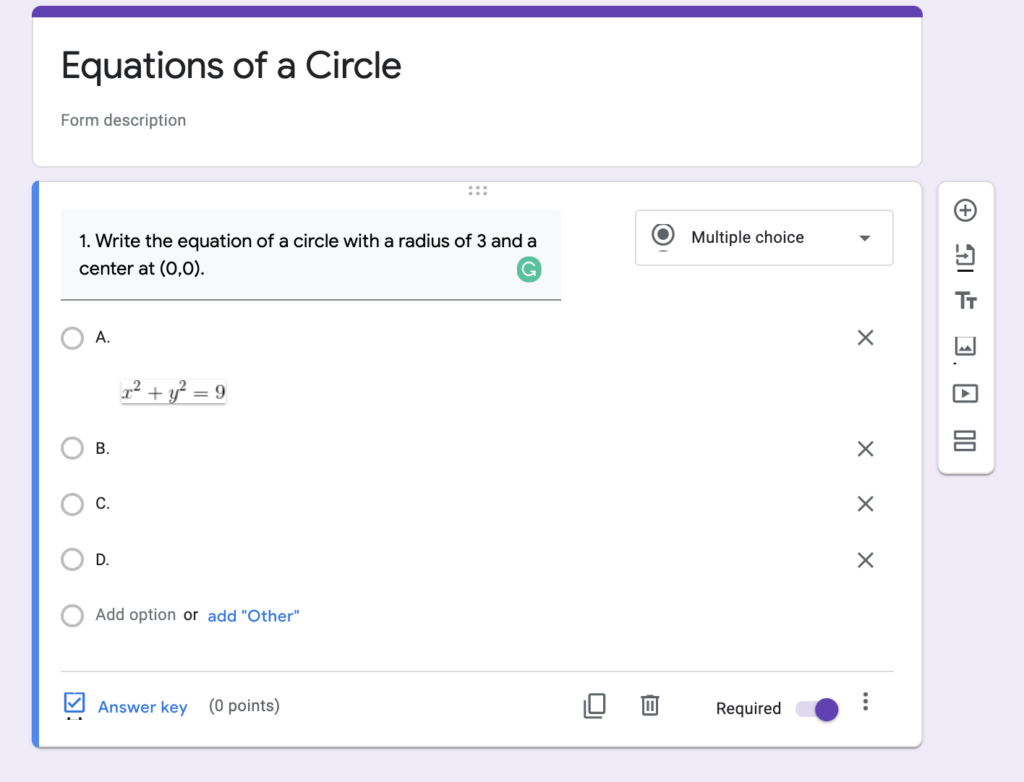 This method the quickest, and you don't have to download anything.  However, the pictures aren't the best quality.
2. Use Equatio (a Google Chrome extension)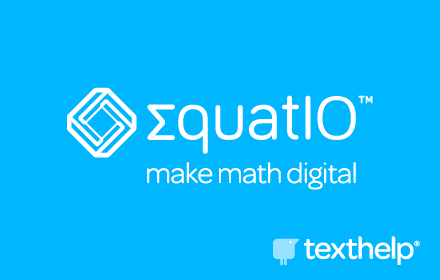 The next option of to use EquatIO™ with a Google Chrome extension from texthelp®. Click here to see all the information about EquatIO. This is the method I use for all of my Google Forms.
EqautIO is currently free for teachers. You can register by clicking here. IMPORTANT: Make sure you register with the Google email you are going to be using to create Google Forms.
After downloading the software on your computer, you must install the Google Chrome extension to use it in Google Forms.
Go to the Google Chrome Web Store and search for Equatio. Add it to your Google Chrome extensions. It should pop up on your top menu bar.

After I downloaded EquatIO and added the Google Chrome extension, I restarted my computer. It still took about 24 hours for the extension to start working. So, just be aware that it doesn't work instantly.
I knew it was working when I opened Google Forms and saw the blue icons beside the questions and answer choices like the ones below.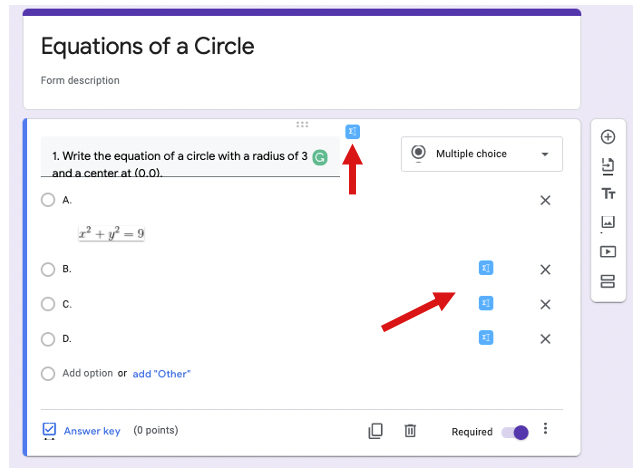 When you click the blue icons, an equation editor will open at the bottom of your screen.
Click the equation button and type the equation. Then click "Insert Math".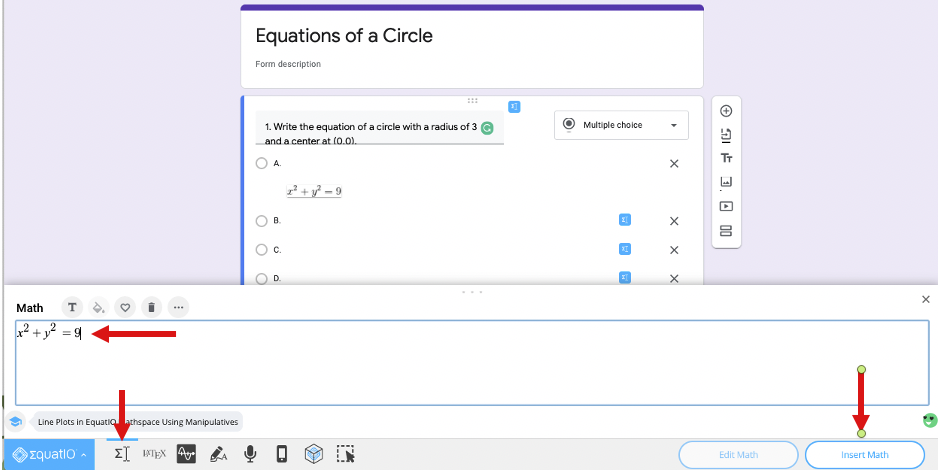 EquatIO does not have symbol buttons you press like CodeCOGS. Simply start typing the symbol you want, and it will populate. For example, if you want to type a fraction, start typing the word "fraction".
Once you press "Insert Math", you will see the equation in Google Forms.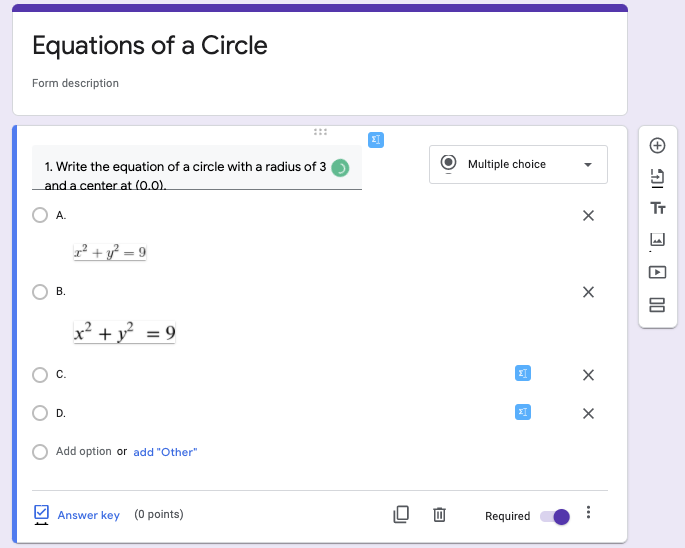 I like EquatIO because I can add equations right within the browser. The equation looks bigger and clearer than CodeCOGS.
3. Use a Microsoft Office Application (Word or PowerPoint)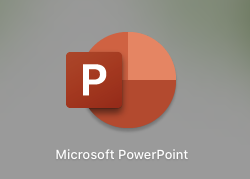 The last method to insert math equations in Google Forms is using the equation editor in Microsoft Word or PowerPoint.
I'm a PowerPoint girl, so I'll show you how in PowerPoint. Check out how I create all of my math resources in PowerPoint here. 
First, open a blank PowerPoint and delete any text boxes. Click insert>equation. If you don't see an equation editor, make sure to update your version of PowerPoint.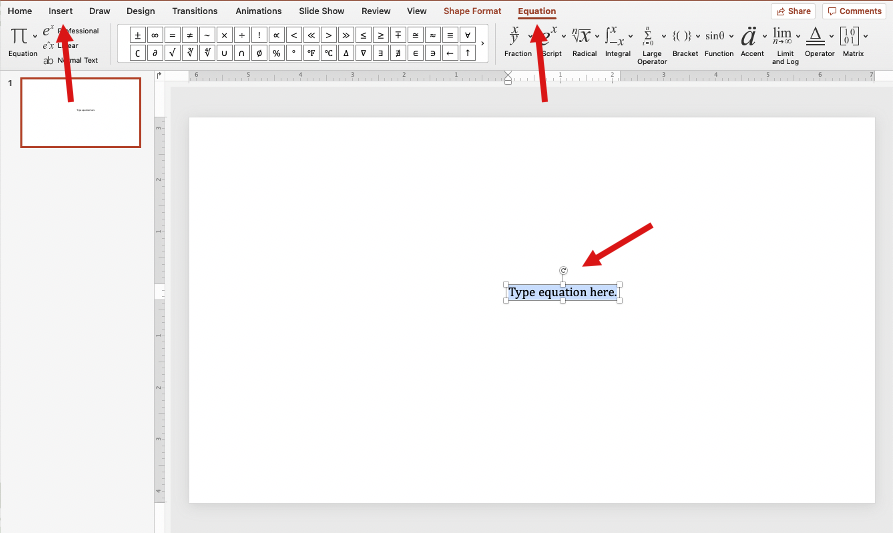 Type your equation and take a screenshot of it. If you are on a Mac, press Command-Shift-5. If you are on a PC, use the snipping tool.
Then, insert the picture using the picture icon beside the answer choice.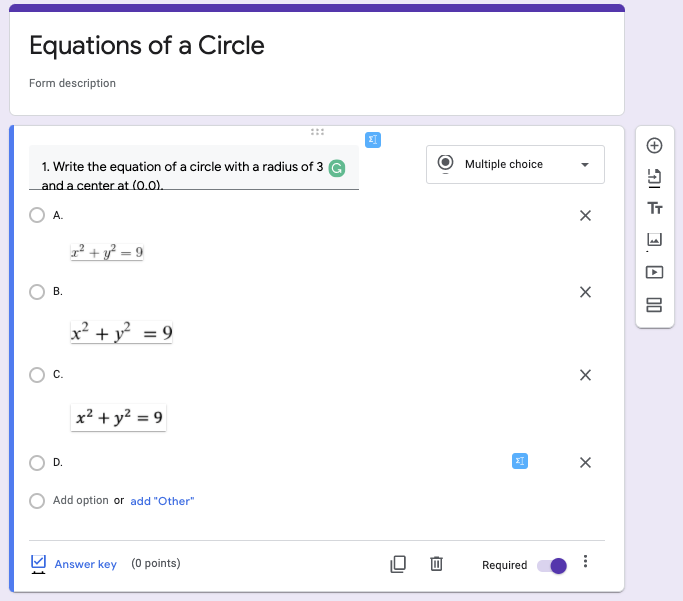 I've used this method as well, but it is a little more time-consuming.
Ok, so just to recap, here is a picture of all three methods so you can see the difference. They are all decent methods. EquatIO is my personal favorite, but they are all great!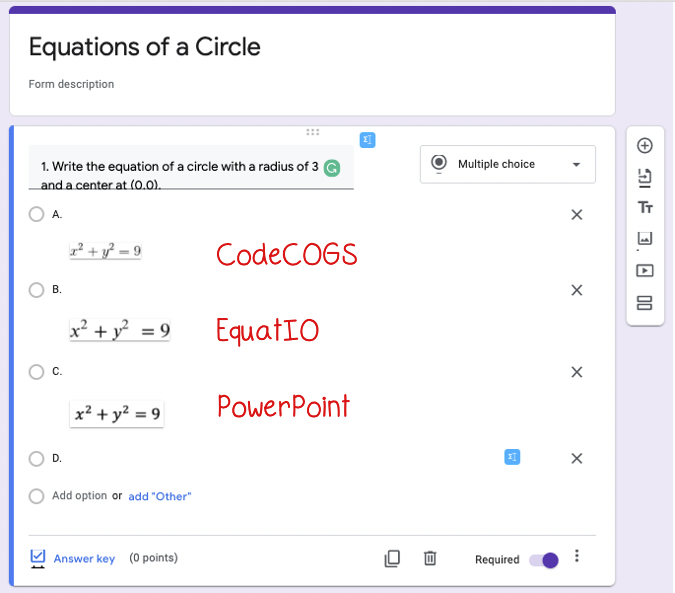 If you're interested in learning how to make your own math resources (both digital and paper), grab my free 5-step cheat sheet here!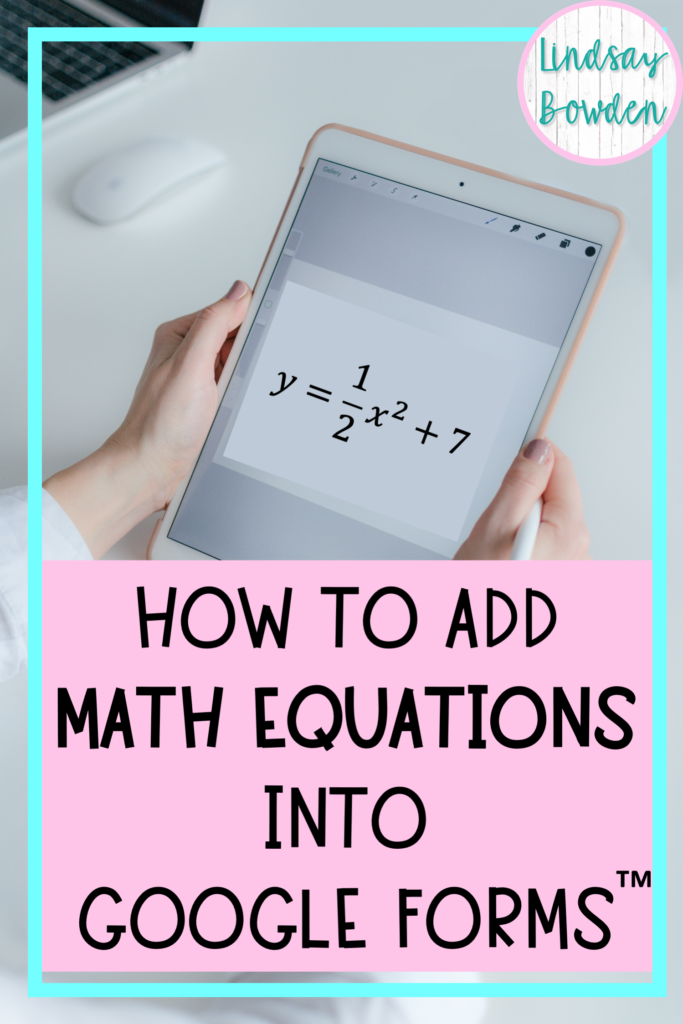 I hope these 3 methods were helpful! Creating engaging resources doesn't have to stop here! Head to LindsayBowden.com/Training to sign up for my FREE training on creating engaging math resources!
You may also like: