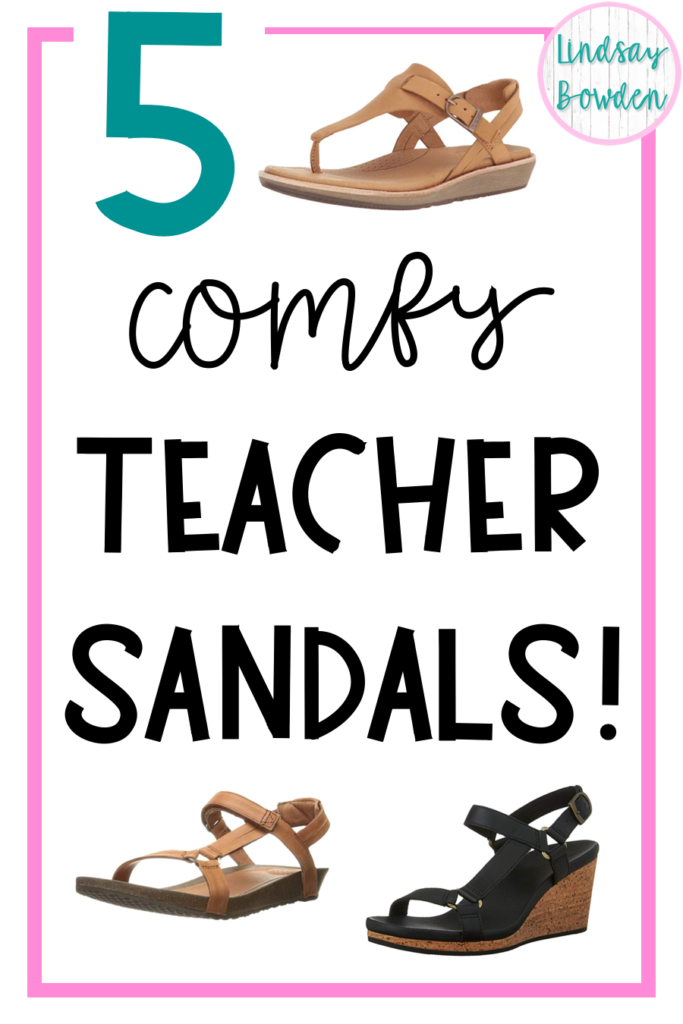 If you go back to school in July or August when it's still a million degrees outside, you want comfortable and cool teacher sandals! I know a post about shoes is not exactly math related, but this is important people! Teachers KNOW that comfortable shoes can make or break your day.
My school was always great about allowing teachers to wear sandals as long as they were professional. I live in Georgia, so we wore sandals until around November. Then again starting in March.
I tried SO many different kinds of sandals over the years, but the ones I have picked are comfortable, durable, and professional. Here are my top 5 best sandals for teachers.
This article contains affiliate links to products. I may receive a commission for purchases made through these links.
1. Teva Encanta – The Best Sandals for Teachers!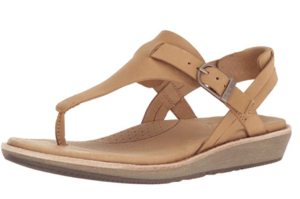 Here is my #1 pick for the best teacher sandals! These are my absolute favorite pair of shoes. I love the Teva brand. Their shoes are durable, comfortable, and stylish. I've had these for almost 3 years, and they still look new!
The leather is soft so I didn't have to break them in. They were comfy from day 1–no blisters!
They also have a great arch for support. I could be on my feet all day with no pain. The straps make these easy to slide on and off.
I wear these at school, on the weekends, to church, everywhere! I can't recommend these shoes enough!
2. Teva Ysidro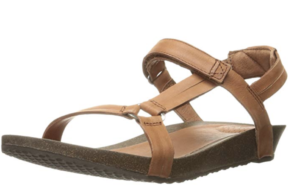 Check out the current price here. 
Another Teva favorite! These are also super comfy and stylish.
They have a velcro strap which makes them a little harder to get on and off. You can't slide them on like the Encantas. However, they are still an awesome shoe. I like the cognac color because it's a little darker than the tan Encanta shoe.
These are great if you don't love the thong style sandal. The still have the great arch and are perfect for standing on your feet all day. They also have great grips on the bottom.
3. Sanuk Yoga Slings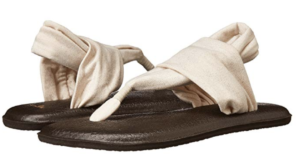 Click here to get the current price.
Sanuk is such an awesome brand! These sandals are made from recycled yoga mats. Talk about COMFORTABLE! These are like walking on air.
Sanuks are definitely a more casual sandal. I would wear these on Fridays with jeans and a t-shirt. If these are too casual for your school's dress code, I would suggest getting them for after school or the weekends!
They have multiple colors, so you can get a pair to match your school colors. The cloth straps are so soft and stretchy. One of my faves!
4. Teva Arrabelle – My favorite dressy teacher sandals!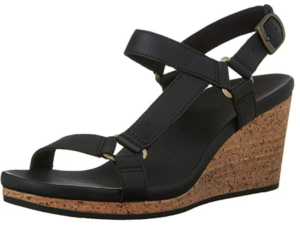 Check out the current price here. 
Yes, another pair of Tevas! I'm telling you–they're my favorite brand!
I am not a heels or wedges kind of gal, but these wedges are SO comfortable. I can wear them all day!
I am 5'3″, so I love wearing these on the first day of school for a little height. I also wear them when I dress up at school or for date night with my husband.
If you love wedges, you could literally wear these every day. They have multiple colors, and they're all super cute. I have a black and tan pair, and I love them both!
5. Birkenstock Yara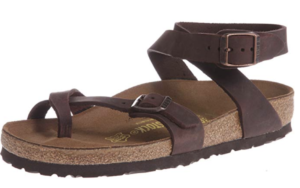 Click here to get the current price.
Birkenstocks are known for comfort! These are a little more pricy, but they are very comfortable.
It took me a little while to break these in, but I loved them once I did. They contoured perfectly to my foot. I like these because they don't have that traditional Birkenstock look. They are more professional and stylish.
Birkenstocks are very durable and long-lasting. This pair will last you years! They also have a great grip on the bottom for walking or even hiking.
Have you tried any of these sandals? What are your favorite teacher sandals? Let me know below!
Happy teaching!
You may also like: