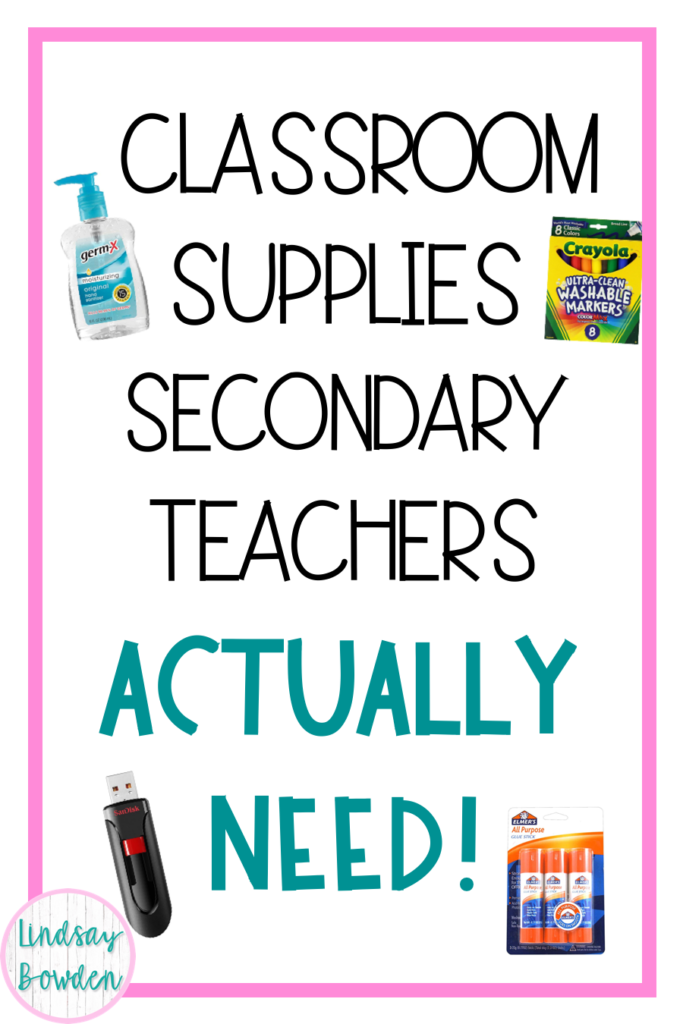 I remember going to elementary school each year with my backpack FULL of school supplies. My mom would also bring additional supplies for the teacher.
Fast forward to high school, and I was lucky if I brought a pencil on the first day. My high school students were not much different. The school distributes a school supply list for parents, but we barely got what we needed. And supplies for the whole class? Hah! That's all coming out of my pocket.
That's why I decided to make this post. Middle and high school teachers need classroom supplies just like elementary schools. If you want to show kindness to your student's teacher, then help them out by buying one (or all) the things on this list!
Here are the top 5 best teacher supplies for middle and high school teachers.
This article contains affiliate links to products. I may receive a commission for purchases made through these links.
1. Tissue and Hand Sanitizer – the two best teacher supplies EVER
These are number one for a reason! I was constantly buying tissue and hand sanitizer–especially around flu and cold season. These were always on our school supply list, but I rarely got any from parents.
Even if you buy one box of tissue and one hand sanitizer, I promise your child's teacher will thank you!
Here are some options:
2. Cleaning Supplies
Most people think elementary schools need cleaning supplies, but middle and high school classrooms need them, too!
Cleaning supplies can help cut down on the spread of sickness. I always loved when parents would buy cleaning supplies for the classroom.
Pro tip: buy your teacher some cleaning supplies as their Christmas/winter break gift! This is when I needed cleaning supplies the most, and I was normally out by that time of year.
These are some of my faves:
3. Pencils and Paper
This might be an obvious one, but I always had a low supply of paper and pencils! You student will need lots of pencil and paper for math class.
I taught at a 1 to 1 school where every student had a laptop, and we still used paper and pencil most days. Your student should have a pack of pencils and a couple packs of paper to start the school year. Make the teacher extra happy by purchasing a few extra packs for the class!
Here are some options:
4. Art Supplies
Art supplies aren't just for elementary school! I always assigned hands-on projects that needed art supplies.
Interactive notebooks are also very popular and require glue, scissors, and various writing utensils. Buy some for your student and maybe some to share!
I love these:
5. Technology Accessories
Most schools now have computers or tablets for students to use. Students need technology accessories to accomodate all of their devices.
Teachers definitely don't expect you to share these with other students. Just buy one for your own student.
Here are some must-haves:
Extra Chargers (for laptops or tablets)–this will vary by the device and brand
I hope this has helped you pick out some school supplies for middle and high school students! Let me know if you have anything to add to the list!
You may also like: